In this fast-changing market, the shipowning clients of the firm are continuously looking to consolidate positions by deals in the newbuilding, second hand and scrap markets.
The team has considerable experience in the drafting and negotiation of and advising upon relevant contractual documents and related financial arrangements associated with the following areas:
Sale and purchase of all types of second hand tonnage for trading or scrap including bulk carriers, tankers, general cargo ships, FPSOs, rigs and yachts
Ship and mortgage registration
Dual and bareboat registrations
Shipbuilding contracts for newbuildings
Loan agreements, deeds of covenants and security
Refinancing
UK and offshore company formations and corporate registrations
Sale and Purchase disputes
Our clients benefit from the team having acted for both borrowers and lenders. This enables transactions to progress smoothly because the team is familiar and conversant with issues emerging from each party's perspective.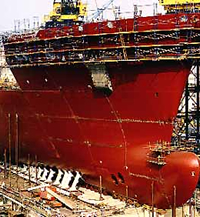 WATERSON HICKS
Ibex House
42-47 Minories
London, EC3N 1DY
Tel: +44 (0)20 7929 6060
Fax: +44 (0)20 7929 3748

Print